Welcome to

Home Of Italian Power Metal
News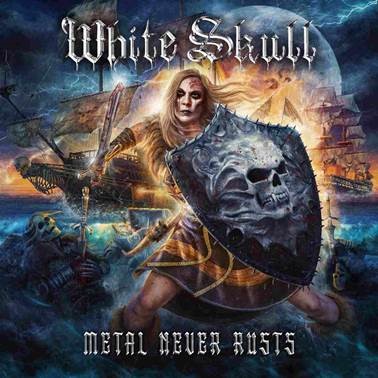 White Skull is a well-known Italian Power Metal Band that has been delivering superlative Metal songs since the 90s. Sharp voice, screaming guitars, hammering rhythms, a stunning mixture of power and melody: the result is an enthralling and gripping sound, coming from the true Metal hearts of energetic and inspired musicians. Fast thundering rhythmic section powered by a new ignition spark and hyper charged by melodies and harmonies produced by bewitching vocals and magnetic keyboard arrangements. All assembled to make the metal crowd roar! The new album is blessed by renewed and powerful energy that bounces from song to song with a level of intensity and magnitude superior to all previous albums because, when forged with passion, true Metal Never Rusts!
"Metal Never Rusts" will be released on October 21, 2022 as digipack CD and digital streaming/download format and on December 16, 2022 as Curacao Vinyl edition that is limited to 500 copies worldwide!
Pre-order the album here: https://bit.ly/white_skull_metal_never_rusts
Guests on the album:
Chris Boltendahl (Grave Digger) – Special Guest Vocal in Scary Quiet
Marzia Fontana, Francesca Battistini, Irene Trinca, Fabio Simonato, Rossano "Ross" Casarin, Dario Cisotto, Edoardo "Dodo" Fusaro, as background vocals
• Cover and booklet paintings by Uwe Jarling
• Booklet Layout by Andrea Vedorin
• Cover concept by Federica Sister De Boni and Tony Mad Fontò
• Photos by Yuri Minghini
TRACK LIST:
1) Hammer On Thin Ice
2) Metal Never Rusts
3) Skull In The Closet
4) Black Ship
5) Heavily Mental
6) Scary Quiet
7) Ad Maiora Semper
8) Jingle Hell
9) Pay To Play
10) Weathering The Storm

Upcoming shows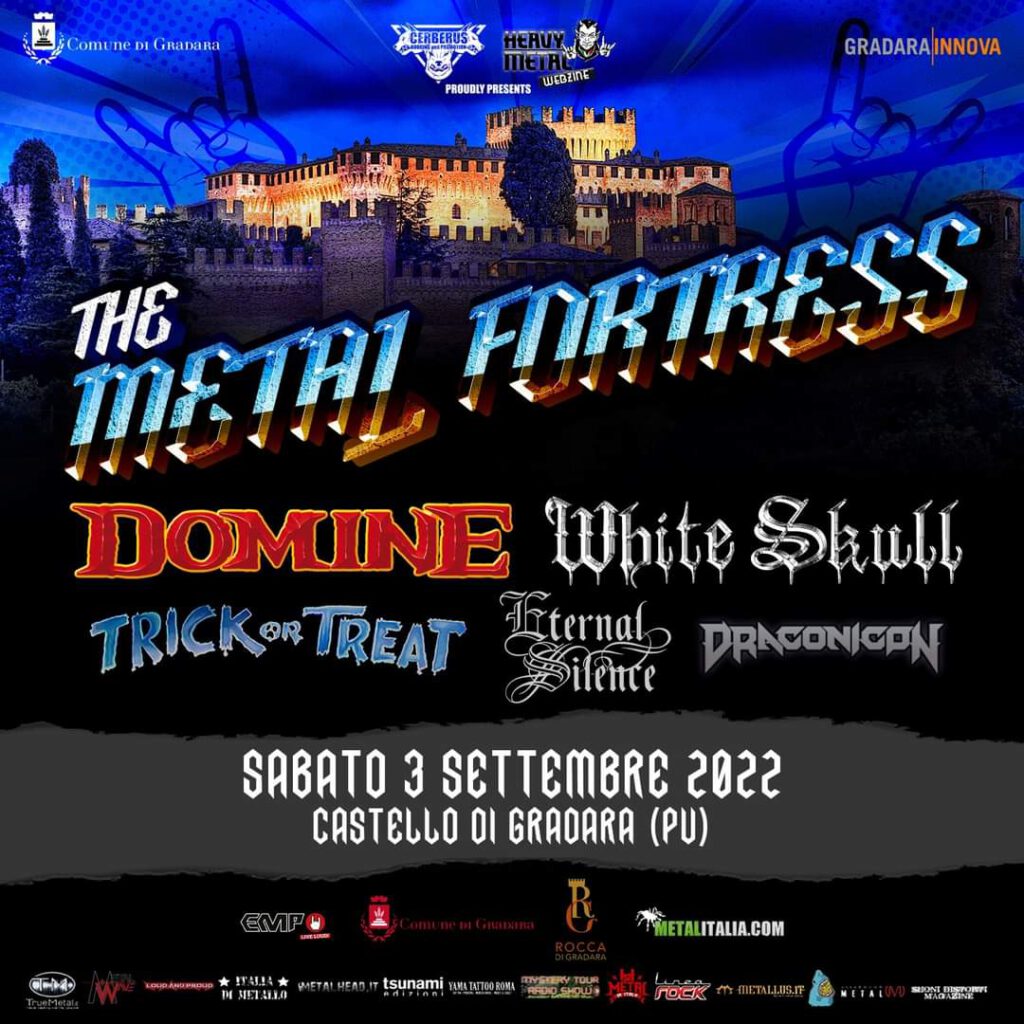 New Label
WHITE SKULL: Studio recording started
  Italian Metal veterans WHITE SKULL kickstarted studio recording of the new album.
Tony "Mad" Fontò, band founder, guitar player and producer will be in charge of the recording sessions at Mad Recording Studio currently located at Valentino's Guitar Academy.

Afterwards, the song tracks will be handed over to Chris Boltendahl (GRAVE DIGGER) for mixing and mastering at Graveyard Studio in Köln (Germany).
Following Tony "Mad" Fontò comments on the ongoing activities:
 "We are truly excited to be back in the Studio. The teamwork is simply amazing. In every recording session, there is great attention to the details and nothing is taken for granted. The band is putting its heart and soul into the new songs.
I am very pleased to collaborate with Chris (Boltendahl) and his valuable support is highly appreciated.
I can honestly say that this is going to be WHITE SKULL's most epic and powerful album composed so far!"

The band just signed a contract with ROAR (Rock of Angels Records)  for publishing and distribution of the new album. More details will be provided shortly.
WHITE SKULL: iniziano i lavori in studio
I WHITE SKULL, veterani del metal italiano, hanno iniziato i le registrazioni dei brani che andranno a comporre la tracklist del prossimo disco.
La band è attualmente impegnata nelle sessioni di registrazione presso i Mad Recording Studio, momentaneamente rilocati presso la Valentino's Guitar Accademy,  sotto la guida di Tony "Mad" Fontò,  già chitarrista del gruppo.

Successivamente, il materiale passerà nelle mani di Chris Boltendahl (GRAVE DIGGER) per le fasi di mixing e mastering nei suoi Graveyard Studio di Colonia (Germania).
Di seguito le parole di Tony "Mad" Fontò, chitarrista e fondatore della band:
"Siamo davvero entusiasti di essere tornati in studio con un team di lavoro così affiatato. Nulla è lasciato al caso, io e i ragazzi della band ci stiamo mettendo corpo ed anima.
Siamo spesso in contatto con Chris (Boltendahl) per cercare le soluzioni migliori ed è un piacere averlo in squadra, il suo apporto si sta rivelando molto importante. Stiamo lavorando con il cuore e credo di poter parlare a nome di tutti dicendo che questo disco sarà uno dei lavori più epici ed energici che abbiamo mai concepito."

La formazione veneta ha firmato un accordo con ROAR (Rock of Angels Records) per la pubblicazione e distribuzione del nuovo album. Maggiori dettagli verranno forniti a breve.
---
History
Sharp voice, screaming guitars, hammering rhythms, a stunning mixture of power and melody:
the result is a high incendiary gradation sound, coming from the heart of six musicians!
All this is White Skull!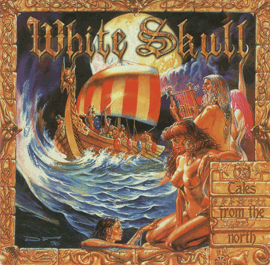 In 1991, after the recording of their first demo-tape, the band was noticed by the audience and the Italian metal press.
In May 1994, the band released their second demo entitled "Save the Planet", which received excellent reviews. White Skull also contributed to two Heavy Metal compilation: "Nightpieces 4" (January '95) and "Area Sismica" (June '95). Finally, a few months later, the Italian Indie Underground Symphony gave them the chance to record their debut CD "I Won't Burn Alone". The album received a lot of positive responses from the press and local audiences and White Skull started to play in pubs, local festivals and biker meetings. The positive feedback and the growing public interest pushed the band to write and compose new songs. Those caught again the interest of Underground Symphony which released in March 1997 the new album "Embittered". The "Embittered Tour" started soon after the distribution of the album and kept the band busy until 1998. The guys played also with Overkill, at the Italian "Gods Of Metal" festival and in Berlin with U.D.O and DORO.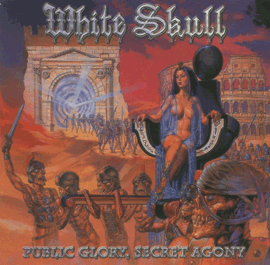 In the meantime the band kept rehearsing and wrote new songs which ultimately brought to the release of the EP "Asgard" and the CD "Tales from the North", a concept album about the myths of the North (Vikings and Nibelungs) with Chris Boltendahl, singer of Grave Digger, as special guest. The album was released in 1999 by Nuclear Blast worldwide. White Skull then played in support of Grave Digger in the "Excalibur Millenium 2000 Tour" in Germany, Switzerland and in March 2000 in Italy.
The following album "Public Glory, Secret Agony" was released in August 2000 on Breaker Records (Udo Dirkschneider's record company) with worldwide distribution by Nuclear Blast. Although the line up changed in the years between 2001 and 2010 the band released many powerful albums which got excellent reviews and public acclaims: "The Dark Age", "The XIII Skull", "The Ring of the Ancients", "Forever Fight".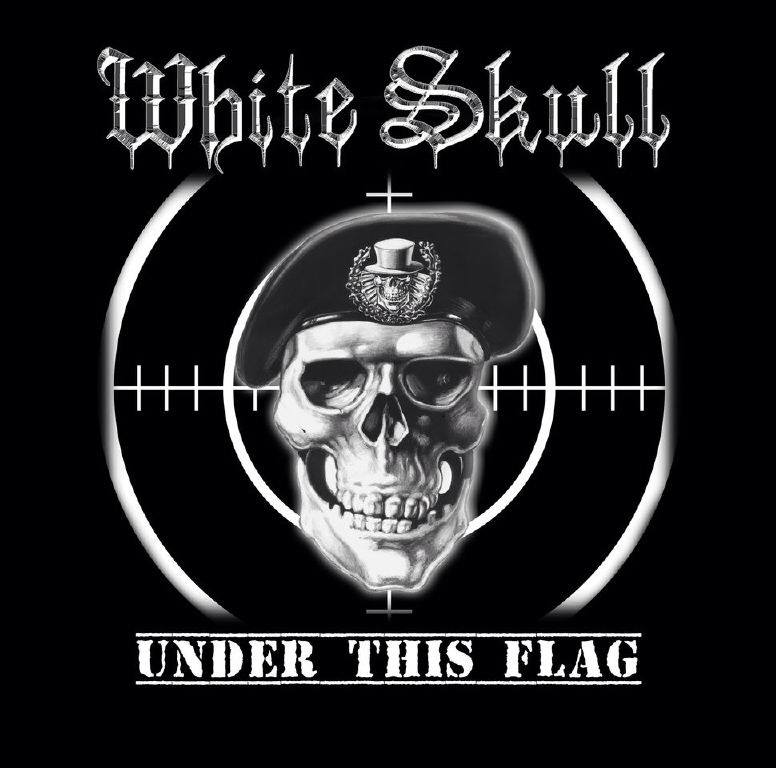 December 2010: Federica Sister De Boni re-joined the Skulls and started right away working on the new songs and shows. The reunion album titled "Under This Flag" was perfectly in line with the music proposed by White Skull, sounded heavier than before, and went straight to the hearts and souls of Metal Bangers.
November 2016: Following pre-production White Skull finished their new album "WILL OF THE STRONG" which has been released in summer 2017.
It is the 10th album of their career.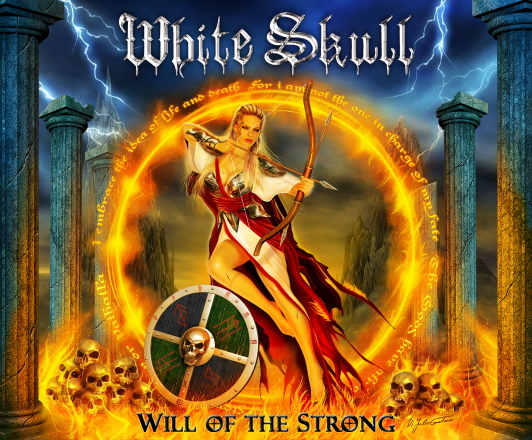 The Band
Highlights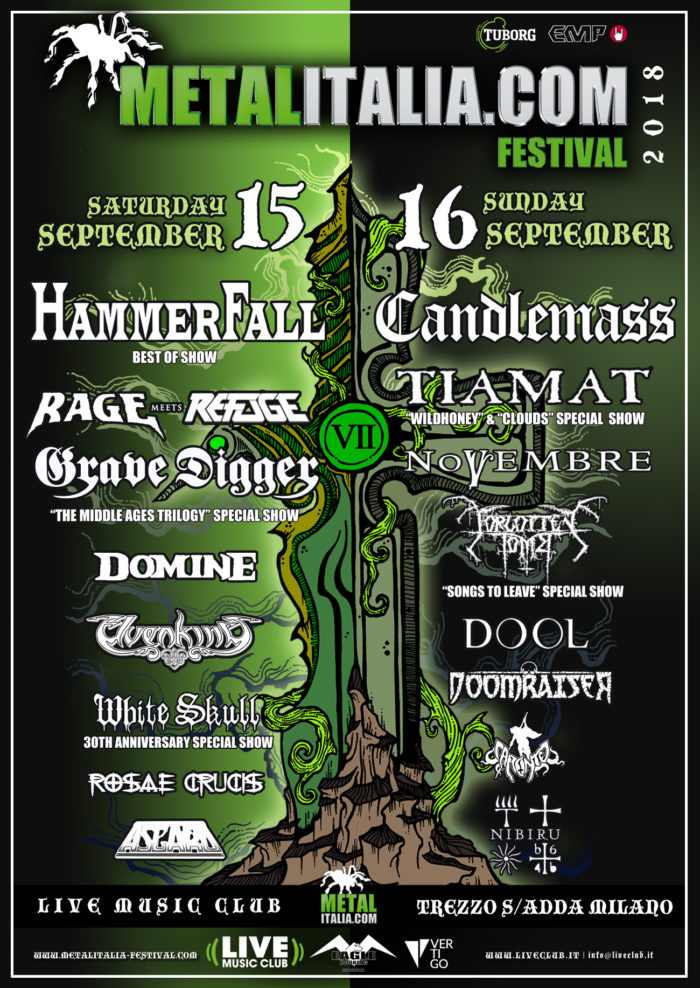 ---
Contact