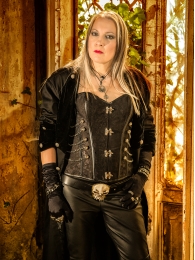 Full Name ::: Federica De Boni
Nickname ::: Sister
Date of birth ::: February 18
Lives In ::: Vicenza
Favourite Band ::: Twisted Sister-WASP-Alice Cooper-Queensryche-Aerosmith-AC/DC…and many more
Influences in music ::: Dee Sneider-Blackie Lawless-Ann Wilson
First record bought ::: I "borrowed" from my brother for a long time…then I bought Empire
You can bring with you only one album. which one do you choose? ::: The Electric Circus-WASP
In your stereo ::: 95.5 Rock of Savannah – House of Hair by Dee Sneider
Background (Earlier bands, etc) ::: Radial Light
If you were an animal, which one would you like to be? ::: Wolf … Spirit!
Describe yourself with three words :::
Stubborn..Determined..Solitary
Favourite books ::: Ouch! Not a big reader and don't remember one in particular…
Favourite movie ::: Lady Hawk-The Others
Your hobbies ::: Music..Work-out/weights..Tattoos
Philosophy of life ::: You will survive if you gather around the right pack
Favourite food ::: Anything with Garlic!!!
Favourite Drink ::: Water …. really..
Desired future ::: Play some ass kicking songs and pass this passion to my kids